Cornwall is a rural region in the southwest of the UK, and it can become isolating for young people. But one charity is using the region's famously beautiful coastline to boost mental health. 
The Wave Project is bringing surfing's laid-back, confidence-boosting skills to children and young adults who have been identified as at risk of slipping into isolation or mental ill health. 
Joe Taylor is the CEO of the charity, which teaches 12 to 18-year-olds how to surf. 
"The Wave Project is a charity that works with children and young people who are at risk of mental health problems," explains Taylor. "And we have quite a unique intervention around surfing and the sea.
"The [children] tend to be young people who've been identified as being at risk of anxiety, depression, low self-esteem, low confidence. And that can be for a variety of reasons."
The charity works outside the usual health infrastructure, but families are referred to the service by doctors, schools or local authorities. After 10 years in operation, The Wave Project now has 16 sites across the UK. 
Unlike talking therapies, surf therapy aims to build young people's confidence by teaching new skills, and instilling a sense of independence with volunteers who often came through the program themselves. 
Lewis Williams and Jay Davies are two young people who took that path and told CGTN Europe how positive the experience has been. 
"It helped boost my confidence – I feel like a different person," Williams said. 
"I could just be myself, so I didn't have to hide who I was," Davies added.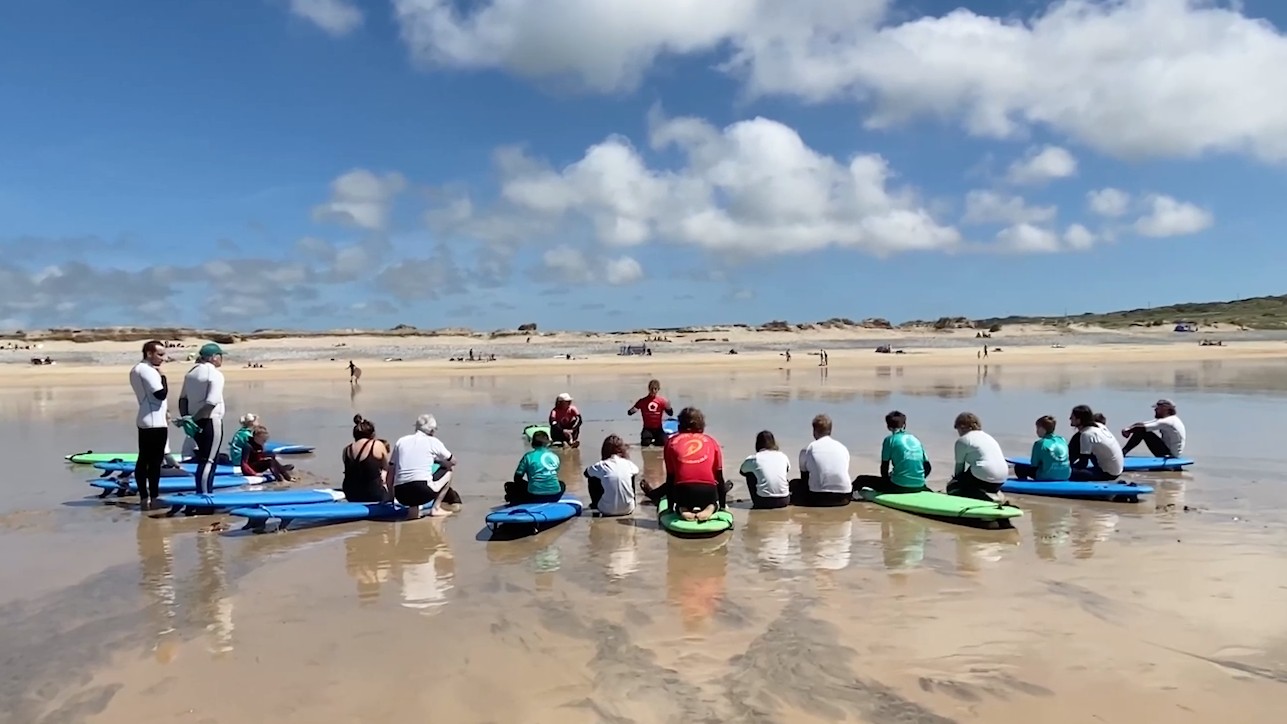 The Wave Project brings people together, teaching skills and instilling confidence. /CGTN
The Wave Project brings people together, teaching skills and instilling confidence. /CGTN
Lewis grew up in Cornwall and said The Wave Project is well placed to help the community. 
He came to the program as a student, and after "graduating" from the program became a volunteer. 
"Quite a lot of people feel isolated – especially in rural areas, there might not be someone to talk to," he told CGTN Europe. "So having projects like this set up is really beneficial for those kids."
And it's not just former students who have seen the impact of surf therapy and joined the project. Christine Davies is Jay's mother and explained why she decided to volunteer. 
"He made friends here, where at school he wasn't making any friends," she explained. "He just altogether became more confident. He wouldn't be where he is today if it wasn't for The Wave Project."