There are works of art that live to be admired in museums and on curated walls—and then there are those you can actually live in. A Wellsville, Utah mansion is exactly that, and it just hit the market for a cool $3.5 million.
A stunning Victorian estate, Maple Rise Mansion isn't just a home—it's a masterpiece. Customized with one-of-a-kind architecture and an unparalleled attention to detail, it's both a showstopper and an idyllic retreat for the Utah family seeking luxury and solace. Sprawled atop a perfectly manicured three acres, the estate is one of Utah's most coveted pieces of real estate.
The not-so-basics
With eight bedrooms and seven bathrooms spread over more than 11,000 square feet, the home speaks to a bygone Victorian era but is thoughtfully and thoroughly modern.
Built in 2012, the mansion welcomes you with custom inlaid marble flooring and hand-painted domed ceilings with genuine gold and silver foil accents.
Throughout the home, you'll find elegant, custom crystal and alabaster chandeliers, leaded and stained-glass windows, dazzling transom and pendant lights and genuine antique European fireplace mantels, evoking the feel of a traditional French chateau.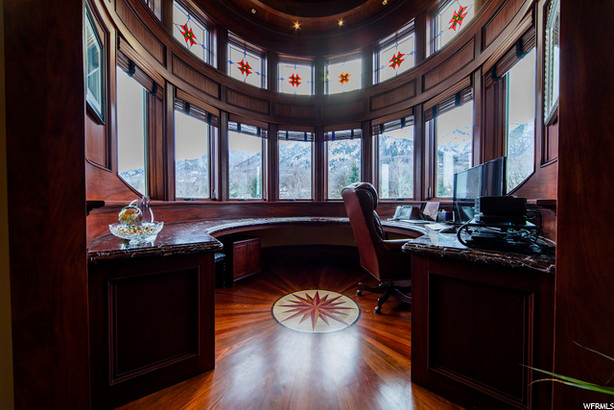 From the dramatic curved staircase to the vaulted windows and beautifully carved moldings, the home is alive with artistic details and luxurious touches. Beautiful wallpaper adorns many of the large bedrooms, while a 500-gallon coral reef aquarium adds a dramatic point of interest to the sprawling office suite.
In the kitchen, you'll find a fully custom, elegantly carved island that comfortably seats six, along with dining space for breakfast and casual suppers. For a more elegant meal experience, you can use the formal dining room, enclosed with spectacular stained-glass and hardwood French doors. A generous—to say the least—butler's pantry includes space for food storage and all your kitchen appliances, beautifully organized on built-in, solid wood shelving.
Even though the home exudes luxury, family is at the heart of the mansion, with sprawling rooms perfect for gathering. A wood-paneled movie theater features comfortable leather recliners and bar/food prep room for the ultimate screening experience.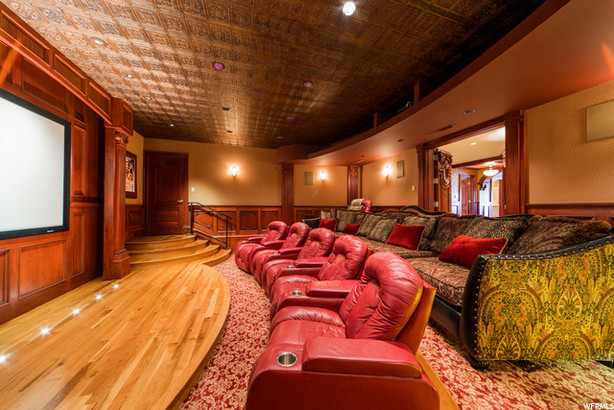 Grounded in beauty
Surrounded by the beauty of Utah's Cache Valley, three acres of painstakingly manicured landscaping envelop the estate, including a beautifully serene recirculating brook, rose and sculpture gardens. Enjoy a walk through the grounds, or just take in the scenery from the back deck— or shady patio, complete with an eight-person hot tub.
The property also includes a detached, 5,800 square-foot carriage house with enough space for multiple cars, boats, wave-runners, camp trailers, bicycles and sports equipment for the entire family. The carriage house's top floor features an expansive home gym and full bathroom, with plumbing ready to build out a kitchen should you wish to transform the space into a separate apartment for guests.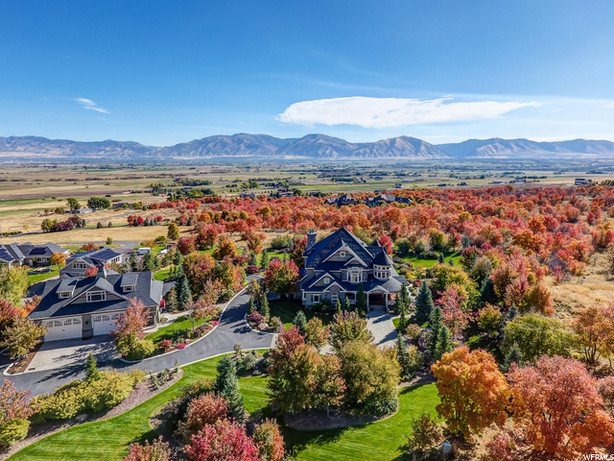 Here today, gone tomorrow
Priced well below cost, this work of art is currently on the market and ready for new owners to love and appreciate each of its magnificent details. Conveniently located in the foothills of the Wellsville Mountains, just 90 minutes from Salt Lake City International Airport. Expansive windows throughout the house provide magnificent views of the Little Bear River Meandering through the beautiful Cache Valley to the east, and the spectacular Wellsville Mountain Wilderness Area to the west. The home is a serene, quiet retreat with easy access to airline travel and world-class shopping and restaurants.
The expansive grounds, luxury carriage house and sprawling bedrooms—many with en suite bathrooms—make this home seem more like an exquisite bed and breakfast that's perfect for visits from extended family.
Of course, it's also the perfect spot to raise a family. With remote work the new normal now is the time to find a new home base well off the beaten path and enjoy life the way it's meant to be lived—beautifully and artistically.
For more information on the home, visit Maplerisemansion.com, or call Keanu Hamilton at 385-299-2151.
×
Photos
More stories you may be interested in