Like her heroine, Ava Stonebreaker, in her novel, "Move the Stars," author Sandy Lender someday may get the stars, themselves, to budge a bit.
Ava does it with the help of her pet shoulder dragon, Strike. Lender, a Beverly Hills magazine editor and novelist, may do it with her pen and the help of her five parrots.
The prolific author has published 13 books of fiction and seven other digital fiction works since she graduated in 1992 from Northeast Missouri State University, now Truman State University.
And she's still going strong. Her latest novella, "Return to the Tribe & Fire," an apocalyptic horror tome that's set in Citrus County and which is replete with zombies, was published in May by Feybreak Books and tied for second place in the 2020 Write Fighters 3-Day Novella Challenge.
Lender's other horror novella, "Destination Premeditation," is set in Crystal River at the Manatee Moss Hidden Manor. The short story, "Rats Under the Roof," is her other venture into the horror genre.
At the moment, Lender is working on a mystery/fantasy that's evolved from a trilogy she's published.
Seventh Star Press in Lexington, Ky., is rereleasing that sword-and-sorcerer fantasy trilogy: "Choices Meant for Gods," "Choices Meant for Kings," and "Choices Meant for All." Archebooks Publishing originally published the trio of books. Lender considers the books empowerment stories for young women.
Lender also is working on the fourth novel in her young adult "Dragons in Space" series. She's already published "Problems on Eldora Prime," "Problems Above Pangaea Moon," and "Problems in Annady's Core," in that series.
In the series, the heroine and some sidekicks become a "tribe of powerful young ladies going on adventures together," Lender said.
She wrote the first draft of the first two dragon-in-space novels during "3-Day Novel Contest(s)," held every year over Labor Day weekends. Night Wolf Publications published "Problems on Eldora Prime" in 2010 and Lender rereleased it in 2020.
ArcheBook Publishing published "Problems Above Pangaea Moon" in 2012 and Lender also rereleased this book in 2020.
In fact, 2020, the year of the pandemic, was a busy year for Lender. She published "Move the Stars," the first of her Gentle Dragons novels, featuring a young heroine who needs to save the world and move the stars.
During each month of 2020, Lender released a different title.
Over Memorial Day weekend this year, she wrote a draft of the novella, "A Rivalry of Vampires," in a three-day writing competition and is waiting to hear if she won a publishing contract. Her other vampire book is "May Your Heart Be Light: A Faerie Christmas Tale," the first in a series with two others planned.
Then there are science fiction tales, poems, and holiday stories, as well as two chapbooks, "What Choices We Made," Volumes 1 and 2, that contain additional stories and information to support the "Choices" trilogy.
There's a fictionalized memoir, "She's Not Broken," about a woman trying to escape an abusive boyfriend, written by Kelsey Day, a pen name Lender uses. It won the 2019 Imadjinn Best Literary Fiction Novel Award.
But perhaps Lender's most unusual book is: "How to Train Your Human: A Guide for Parrots," providing tongue-in-beak insight into how parrots might act and think, and what they might need.
Lender's literary output leaves one kind of breathless to think this much creative writing was done mostly on weekends as Lender squeezed it around her day job as editor of the trade magazine, "AsphaltPro."
She said the magazine, which serves the asphalt industry, and the stories in it "require no playing around." The articles about highways and airport taxiways and other construction projects need to stress safety and be very how-to.
So, when she puts on her novelist's mantle, "My brain needs to click this off," she said.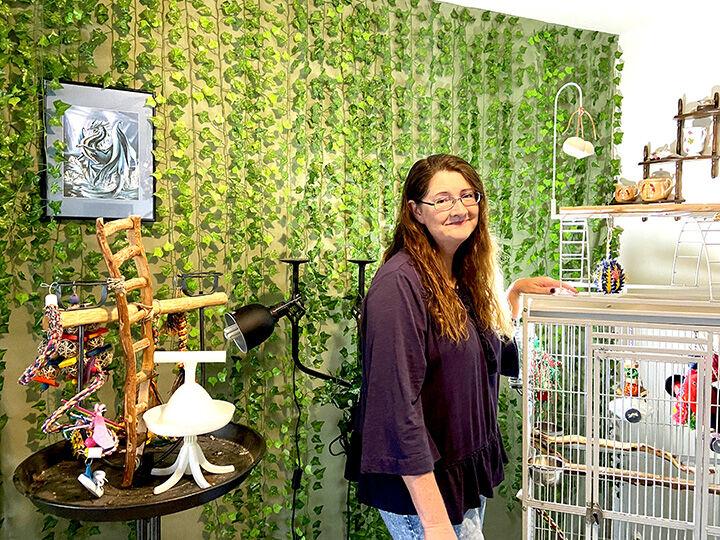 She said she's been writing since she was about 6 and would create little stories for her great-grandmother and read them to her and others in her great-grandmother's apartment building in West Frankfort, Ill.
Lender was born at Homestead Air Force Base when her dad was in the Air Force. When she was an infant, her family lived on the Spanish island of Majorca Her family dwelled at various spots across the South, including Biloxi, Miss., but she spent most of her years in the St. Louis area.
She said every summer as a child, she would read or reread the "Little House on the Prairie" series by Laura Ingalls Wilder.
When she was in junior high, Lender won first place in a school writing contest, in which she created a short-story sequel to Harper Lee's "To Kill a Mockingbird."
Although one might jump to the conclusion that Lender might be able to fashion her real life to correspond to the fantasy world of some of her novels, she admits that at one point in her life, and like her heroine, Melody, in "She's Not Broken," she faced emotional abuse.
Lender also has survived Hodgins disease twice. She at least partially attributes her survival to the skill of her medical team. "If you have to get cancer, this is the cancer to get," she said. "It's a cancer they know how to solve." But she also gives much weight to the power of faith. "There was a lot of prayer," she said.
Surviving this harrowing walk along the brink of life has made Lender determined to see that her work gets out into the world.
"I've got all these stories," Lender said. "I want to write inspiring stories for girls so they can see they can do something cool."
Lender also is determined to be a good role model not only for young women, but also for her five parrots.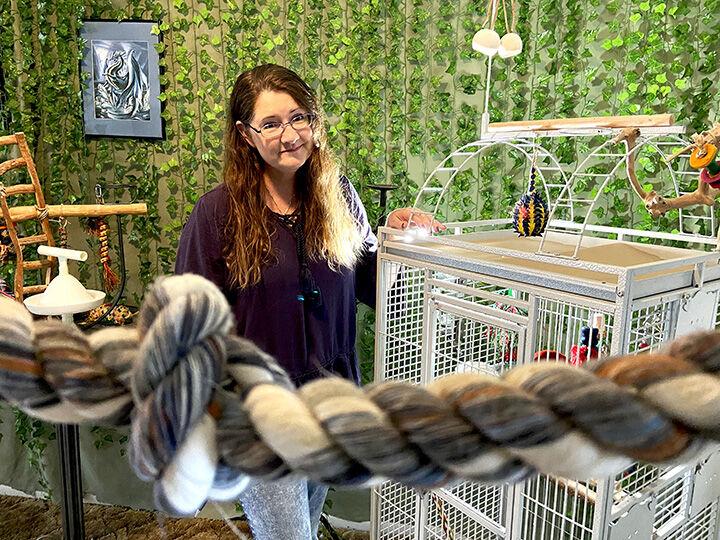 Bobo was rescued by Ziggy's Haven Bird Sanctuary in Inverness. So was Sebastian, whom Lender said is "an ambassador," who appears before groups to help them learn about conures, a type of parrot. Sebastian's a blue-throated conure. Bobo is an eclectus parrot.
Then there's Cricket, a green-cheeked conure; Mouse, an African gray parrot; and Winston, whom Lender said is an eclectus parrot who previously lived with a veterinarian.
Lender has created a parrot playhouse in part of her home, where she's stapled cloth to a wall, then strung plastic vines in columns to help the parrots think they're in a jungle. There are ladders and hoops and a large woven rope, beckoning the parrots to enjoy their jungle gym.
Lender told how she raised her first parrot, Petri, who came to her as a baby. Lender's novel, "Move the Stars," is dedicated to Petri, "my shoulder dragon."
"She's Not Broken" is dedicated to Petri and Lender's best friend, Christine.
Lender said Petri "taught me about unconditional love. He was awesome."
When she's not working on books or the magazine, Lender helps with parrot rescue and sea turtle conservation.
For those hoping to follow in this author's footsteps, Lender recommends the three-day writing contests, as well as National Novel Writing Month, to help writers get motivated to sit in a chair and push the words out.
Lender has not hesitated to self-publish some of her work, although small publishers have published some of the rest.
Self-publishing "pays more," she said.
She said what she likes about writing is "the surprise. (An author) can be surprised at what your character does."
She told how in one of her "Choices" books, a character is able to accomplish things a human couldn't. She wondered how to explain his super-human prowess.
"And then he revealed he was a sorcerer," Lender said. "I love it when that lightbulb goes off. I hope the reader also has the lightbulb go off."