An activity center for adults with special needs who have completed high school is now open in New Braunfels.
Camp Cummins Activity Center opened this week, providing daily activities for adults with special needs and offering some help with potential employment in the community.
Susie Cummins, the center's chief financial officer, said she and her husband, Tom, saw a need for such a place about a "couple of three years ago" as offerings for people with special needs once they graduate high school are limited.
"What we do here for our clients is, if they are able and willing, we are going to work with the Texas Workforce Commission to help them find a job in the community," Cummins said. "We have a place back here in the building where TWC can come and train if they want to do that. If it's something like dishwashing, we have a commercial kitchen, and we're going to teach them that kind of thing."
Plans also call for clients to learn to prepare cookies and cupcakes as well as crafts for sale in the store's retail area.
"They'll learn retail," she said. "The crafts that they will be making are wind chimes — a single strand wind chime in most cases with a bell on the end that is made out of beads. They're very attractive. We will also be making yard art. You take pieces of glass, decorative items that have been in your house that you're tired of and want to throw away. We glue them together to make a birdbath or bird feeder, and you can set them out in your yard."
Cummins said clients would earn a percentage of the items they make and have sold.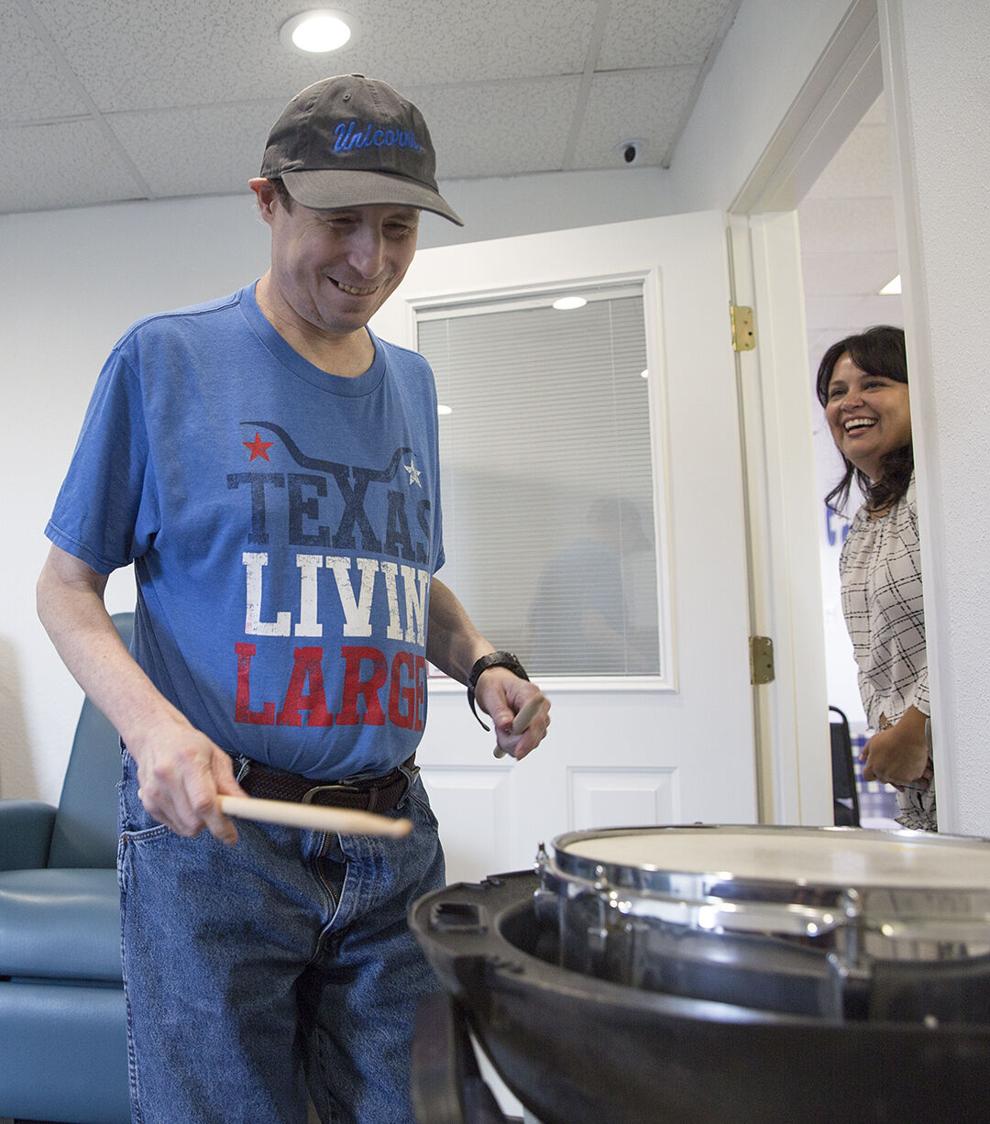 The center also includes separate rooms for music-making and exercising.
"It has a piano, a guitar and, if I can find it, a xylophone," she said. "They can play and relax if they want to. We bought some exercise equipment like what you would find in a gym. A lot of these clients, because of COVID, gained a lot of weight and they need to exercise. We'll have them exercise 10 or 15 minutes a day."
Tamera Strange, who is not a center employee but a caregiver for two of its clients, said the two men she takes care of missed being out and enjoying different activities.
"When COVID hit, they weren't able to get out as much — they were in-home a lot," Strange said. "Now, I think this will build confidence, and I believe they will be more active and happy to be out in the community. For me, it frees up time for shopping or anything I need to do around the house while they're not there."
The center is now taking applications for new clients. Parents and caregivers can pick up an application at 241 South Business IH 35. 
The center also needs volunteers, Cummins said.
"It will be up to the volunteers to determine what time they want to come in and help," she said. "We can always use volunteers in the kitchen or with the crafts — anything they want to do. We would love to have volunteers come in to help."
For more information, contact the center's director, Marta Yanez, at 830-387-4567.